LOVE & HAPPINESS RANCH

A wise man will investigate what a fool takes for granted.

CLICK HERE TO SEND AN EMAIL

Call us: 704-245-5981

Remember, your horse needs an education too!

HABLAMOS ESPANOL

LOVE & HAPPINESS RANCH
Love and Happiness Ranch is looking to improve the ranch and furthering its Back to Basics program.
With this program we will be creating a community outreach program that produces a culturally diverse, self-esteem instilling, confidence boosting ranch, that teaches proper farming techniques, equine etiquette, and outdoor education (*farming and ranching through hands on demonstration).
Through this program we will also be using aqua phonics and hydro phonics to create renewable energy and organic foods.
Our mission is to focus on colleges and cities that are interested in reducing energy costs while creating jobs and producing "green" citizens and youth.

Land and food sources are becoming scarce and or expensive, especially that of the organic nature. Work ethic, workmanship, and efforts of the "now" generation are becoming less visible.
"Green" is the way to go, just as it was 50 to 100 years ago, but it takes hard work to encourage a green community.

Love and Happiness Ranch brings multitudes of benefits to the community and surrounding areas, some of which include:

"Back to Basics"
A basic educational program designed to coach youth and college students in a variety of positive objectives using hands on learning to help sustain and grow,
life skills for making them productive citizens for living and generations to come. Within this program we teach survival skills with hands on farming, raising grass-fed cows and equine etiquette techniques.
All while instilling pride, self-esteem, positive social skills and goal setting. The students will learn how to grow organic foods using aquaponics and hydroponics and produce reusable energy.
This is the process of growing Tilapia fish in tanks. The affluence is then filtered and used in growing fruits and vegetables without soil (hydroponically).
Algae and duckweed are grown in photo bio reactor tanks, which are able to be used in the process of creating bio products such as bio fuels, thus creating our own form of energy.


"I CAN PROGRAM"

ASSISTANCE WITH BASIC EDUCATION
ASSERTIVENESS TRAINING
INTERVIEW SKILLS
ATTITUDE ADJUSTMENT
(POSITIVE SOCIAL BEHAVORIAL TRAINING)

PROGRAM OBJECTIVES
1. TEACH SELF-ESTEEM
2. INSTILL PRIDE
3. TEACH SURVIVAL SKILLS
a. ANIMAL HUSBANDRY
b. FARMING TECHNIQUES
c. "RITES OF PASSAGE"
d. ENVIRONMENTAL RENAISSANCE
4. TEACH SOCIAL SKILLS
a. RESPECT FOR SELF AND OTHERS
b. COMMUNICATION
c. HANDLING ANGER/CONFLICT
5. TEACH DECISION-MAKING
a. GOAL SETTING
b. PROBLEM SOLVING
c. CONFLICT RESOLUTION
6. PROVIDE FOCUS AND DIRECTION

"Community Outreach"
Through the ranch's owner and his Native American culture, the ranch is often used as a breeding ground of happiness!
We provide therapeutic services to veterans with PTSD. The animals and the hands on experience helps them to deal with and talk about their experiences, and with prayer and counseling we can help them get back to the quality of life they were accustomed to before serving in the military.

Through the community and animals we can learn to love one another and our environment.
We often host fellowships, mini-concerts, horseback riding, and cultural ensembles for surrounding organizations and communities.

Future Projects "Aquaponics and Hydroponics"
"Organic Foods"
Providing education and access to dying breed of provisions, we will use aqua and hydroponics to provide a healthy lifestyle, grass-fed cows and organic produce for the students and the community.

"Renewable Energy"
using solar power and the process of hydroponics and aquaponics, we are able to produce and reuse the energy we create on the ranch, and hopefully in the future, across the community.




BEMER is the world's only "PHYSICAL VASCULAR THERAPY MEDICAL DEVICE" that can increase blood flow in HUMANS and your EQUINE partners by 30% in 8 minutes.

Click here to Watch "BEMER Vet Horse Model"


The BEMER signal has positive influence on your horse's entire body, and effectively stimulates the parasympathetic nervous system. It is also responsible for the stimulation of "rest and digestive" activities. The application of BEMER before training, competitive riding, or transportation aids in the tranquility and comfort your horse experiences. Through the use of BEMER Vet products, your horse will benefit from faster recovery, regeneration of muscle tissue, and more efficient hydration.
The BEMER Veterinary Line provides for your horse's vitalization and reduces the effects of stress from transportation and competition.
The BEMER Veterinary Line supports you in the optimum care of your hose, helping preserve health and increasing performance. All devices work with the unique BEMER signal that has been successfully tried and tested for over 19 years. Our worldwide patented device signal and our Liechtenstein/Swiss Made manufacturing are some of the pillars of our global success.


Click here to Order Your BEMER Vet Horse Set

We are your Independent BEMER Distributor for
NC, SC, GA and VA - BEMER ID: US45788
Please Call for a Demonstration
704-245-5981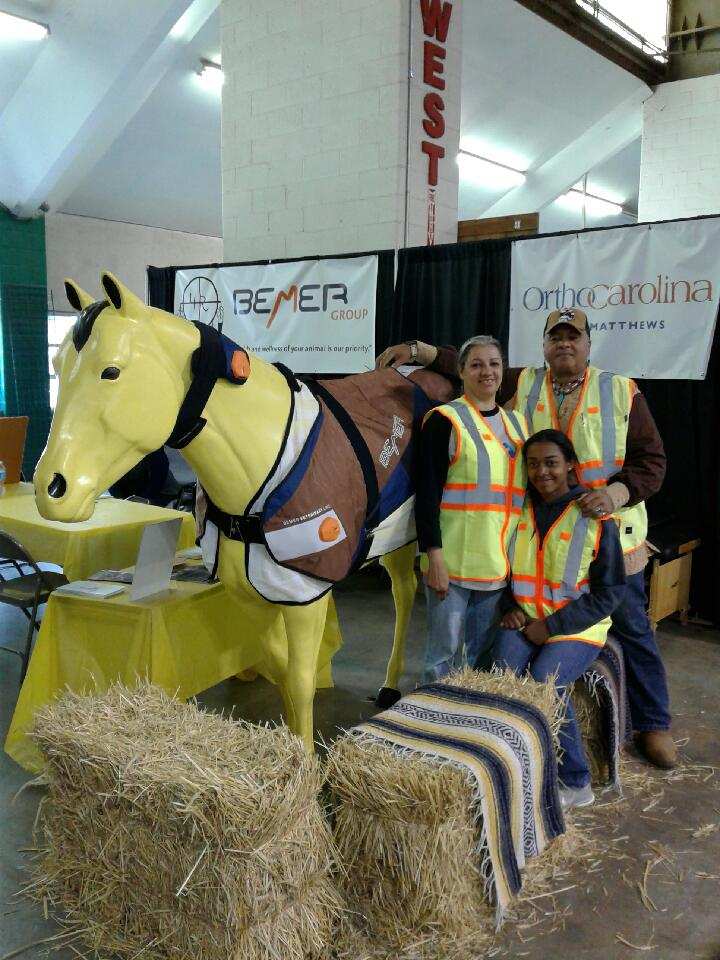 "The BEMER Pro Set for HUMANS"
The BEMER can enhance...
Blood Flow, Nutrient and oxygen supply, Body waste disposal, Concentration & mental acuity, Physical fitness, Cardiac function, Endurance, Energy, Stress Reduction, Better sleep management and Greater relaxation

Click here to Order Your Personal BEMER Pro Set